All golfers dream of having their own pitching or putting green. Now you can. With our artificial turf golf surfaces, you can create your own  Custom green. Select from our Pre-Fab of pre-designed greens , or choose the right Portable green for your home, office or school.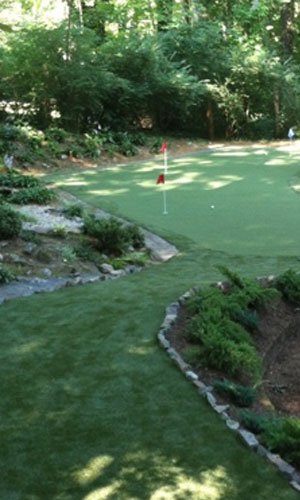 Artificial turf is a perfect solution for perfecting your golf game
With a wide variety of styles, colors and surfaces to choose from, New England Turf Store can create the perfect setting to practice your game and simulate a variety of conditions and real-life situations you'd find on any course in the world.
We can help you create:
Tee Boxes
Pitching Mounds
Putting Greens
Portable Greens
Putting Mats
New England Turf Store's artificial turf golf greens accept chips and pitches like natural greens and putt just as true as the real thing, without the hassle of maintenance or weather restrictions.
Call New England Turf Store @ 781-821-0112 today to talk to one of our golf applications experts.
> Download a product sheet now for more information on our turf products for Golf.