Is Artificial Grass for Playground Surfaces Safe for Kids and Pets?
When constructing commercial playgrounds, safety must be your top priority. Nobody wants to see kids injure themselves at a place where they are supposed to have fun.
Plus, as the builder of a play surface, you could be liable for any emergency occurring at the playground. That is one of the many reasons you should consider synthetic playground turf for your next project.
New England Turf Store is Canton's leading supplier of synthetic turf and artificial grass for a playground. Our top-notch artificial grass can help protect children near playground equipment by preventing injuries.
Let us look at some of the reasons why artificial playground grass works well in play areas.
Benefits of Artificial Turf
When you install playground turf, you can reap many benefits.
Authenticity
Essentially, artificial turf is fake grass that looks like real grass. A high-quality turf roll resembles beautiful green grass, and sometimes, it can be hard to tell the difference.
Safety
One of the benefits of using artificial turf is it protects children from the dangers of natural grass. With actual grass, kids are prone to injuring themselves on wood chips, pea gravel, and rocks. With new turf, you can smoothen the playground surface. Our products ensure there is nothing young children can injure themselves with.
Temperature Regulation
Artificial grass for a playground also comes with the benefit of regulating temperature. Sometimes, regular grass can be too hot to play on. During the winter, the ground can be solid, causing more injuries. Our turf stays at a comfortable temperature and remains consistently soft year-round.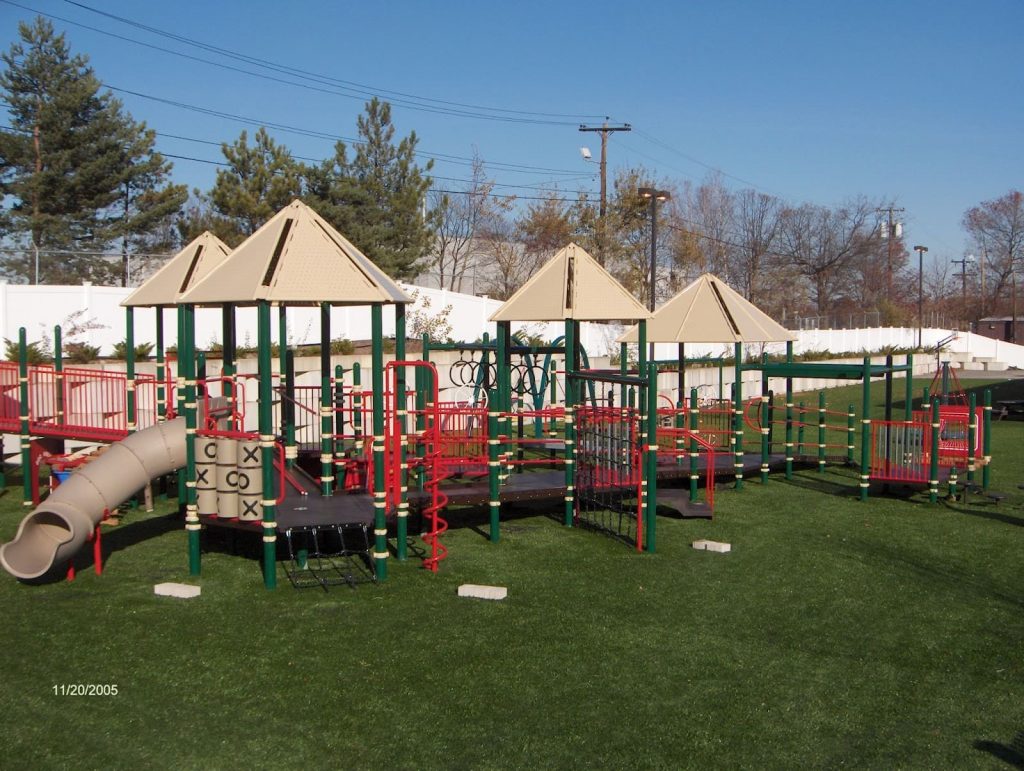 Synthetic Grass for Playground Surfaces
We offer a selection of synthetic grass products that can help keep children safe if installed properly.
Safety Turf Control
Most playgrounds have extreme traffic and ongoing maintenance. Therefore, you must have a surface that is durable enough to withstand all that weight and pressure. Our Safety Turf Control can absorb contact from children, mitigating the potential for critical injuries.
Soft Step
Our Soft Step turf solutions accommodate a fall height of up to seven feet. We recommend installing these products under play equipment, as they can endure falls from a fair height. Turf with a proper fall height rating is essential to maintain a safe play area.
Supreme
Our Supreme turf products maintain a natural appearance with a proper drainage system. Plus, they eliminate the dangers that come with rubber flooring and rubber mulch. This soft surface is perfect for children's fun areas and hosting traditional recess games such as soccer and touch football.
Artificial Surface For Pets
Many of our customers choose to install an artificial surface to prevent their pet's muddy paws from damaging their outdoor spaces. Our turf is easy to clean and will protect your deck or play area from permanent stains and damage.
Plus, our foam pads consist of high-quality material that is safe for your pets. Our products are popular with those who have dogs or cats that are allergic to traditional grass.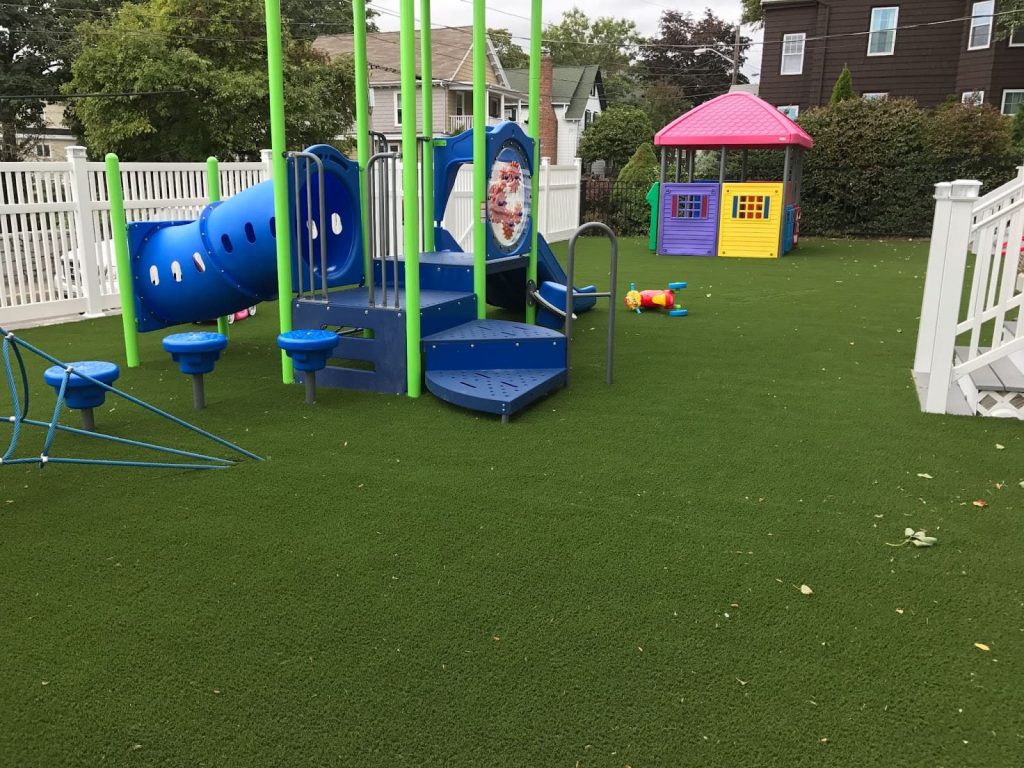 Install Playground Turf Today
We hope we explained the benefits of installing play area artificial grass for a playground succinctly. Each year, we help hundreds of schools, daycare centers, and more with our top-notch synthetic turf installation services.
New England Turf Store is happy to install synthetic turf on your Canton, Massachusetts, playground surface. Our experienced team knows the best methods to create a safe and secure playground area for children. You can reach our front desk team by calling (781) 821-0112.