Homeowners in and around Braintree, MA know all too well the difficulty of keeping their natural lawns healthy during New England's varied climate. The challenges for those with sports fields on high school or college campuses are even more difficult when it comes to finding a safe playing surface no matter what the weather brings throughout the winter and summer months.
For this reason, synthetic turf from New England Turf Store has become an increasingly popular solution among homeowners looking to create custom projects that meet both performance standards as well as design specifications!
Our team provides top-quality products backed by quick installation times – see our gallery of recent projects today–and unparalleled customer service so you can bring your vision indoors into reality stress-free.
What is Artificial Turf?
Transform any surface into a high-performance sports field with revolutionary artificial turf- designed to provide the same look and feel as real grass, while enhancing safety. This synthetic material has been optimized for athletics through advanced development: sensors now measure athlete speed and agility so each match can be improved! Plus, we offer tailored products for every budget size – priced by square foot according to your materials selection – enabling you to get maximum value from your investment.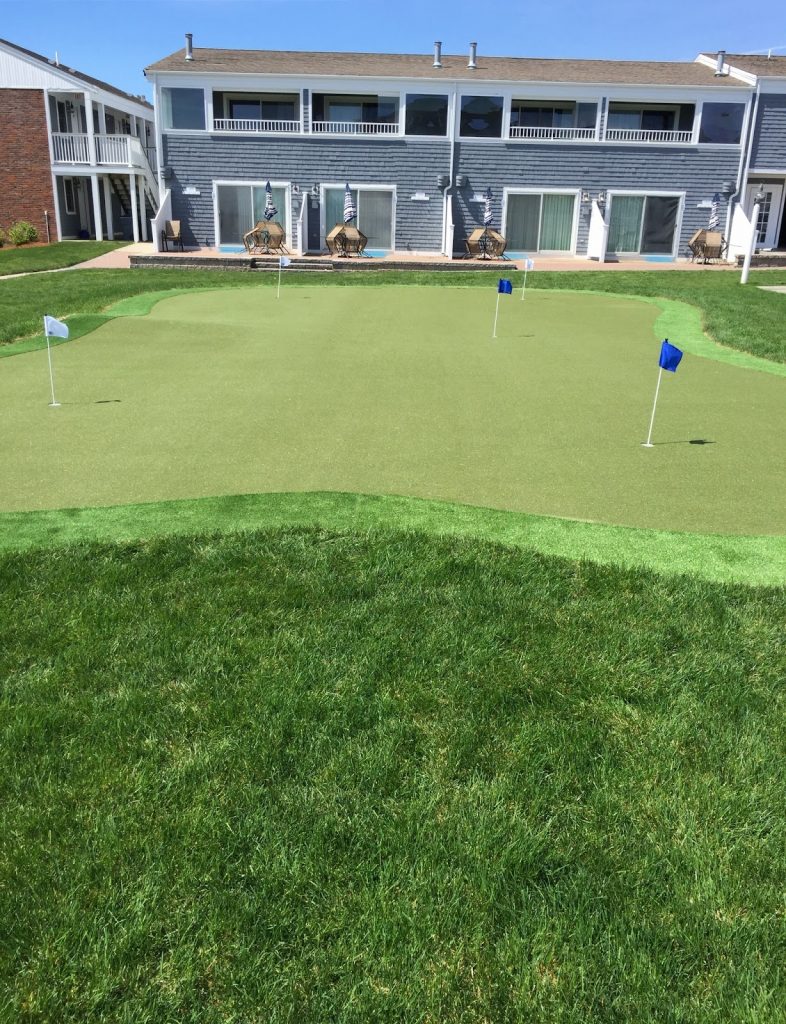 What Can it Be Used For?
Artificial turf is a versatile option offering many benefits in both athletic and home settings. From providing excellent sports surfaces to transforming backyards, artificial turf can be utilized in countless ways – making it an ideal choice for any space looking to make the most of its area!
Home Use
Homeowners now have an exciting, low-maintenance option for their indoor and outdoor spaces – artificial turf. This modern material brings the beauty of real grass to any property with none of the mess and hassle associated with traditional landscapes; no seeding or mowing is required! Not only is it visually pleasing, but also environmentally friendly: less water usage reduces bills while eliminating backyard pests increases comfort. With artificial turf, homeowners can enjoy quality time outdoors without sacrificing precious hours maintaining their landscape masterpiece.
You can also use artificial turf in your home. Whether you're into golf, baseball, or weight lifting- artificial turf can be installed in your home to provide a space where you can practice your hobbies year-round! No mess and no stress of having to go outside during bad weather increasing the time you can play!
Commercial and University Use
As an increasingly popular option for commercial building operators, artificial turf systems have demonstrated their potential to enhance durability and performance with minimal maintenance. More expensive initially than other sports court floors, these turfs offer a long-term investment that requires little time input and few repairs — consequently saving money in the long run while allowing guests continued access.
With its ability to be designed specifically towards size and shape requirements as well as optimized drainage capabilities, it is clear why this system continues gaining recognition across various athletic fields both indoors or outdoors.
Artificial Turf in Braintree, MA
To begin your artificial turf installation project, contact our Canton office today. We will discuss the ins and outs of your synthetic lawn request and schedule an in-office consultation.
During the consultation, we will discuss viable options that can help you achieve your goals for your synthetic artificial grass project. Our team will then draw up a few sample designs and send them to you for approval. Once we settle on a blueprint, we will begin to install synthetic turf at your property.You can install artificial grass in Braintree, MA, by calling New England Turf Store and setting up a consultation with our talented artificial turf team. The number to reach us at is (781) 821-0112. Check out our reviews.