From Cambridge, MA to its surrounding towns, homeowners need not worry about maintaining a natural lawn in New England's unpredictable climate. Busy athletic fields also get their fair share of wear and tear throughout the year – that is why artificial turf from the experts at New England Turf Store has become an ideal solution! Offering top-quality products with fast installation, and backed up by world-class customer service. We conveniently transform any sports field or outdoor space into your dream project. Whether you're looking for ideas or just curious about what our recent projects look like, be sure to check out our gallery today!
Benefits of Artificial Turf
Artificial grass offers the look and feel of natural turf, with all the benefits that come from this revolutionizing synthetic material. Initially introduced in sports leagues as a way of reducing injuries among athletes, artificial grass has made tremendous advancements, thanks to newly developed sensors that provide feedback on speed and agility. With our expansive selection at varying price points – tailored comfortably around any budget size – you can now reap more benefits than ever before!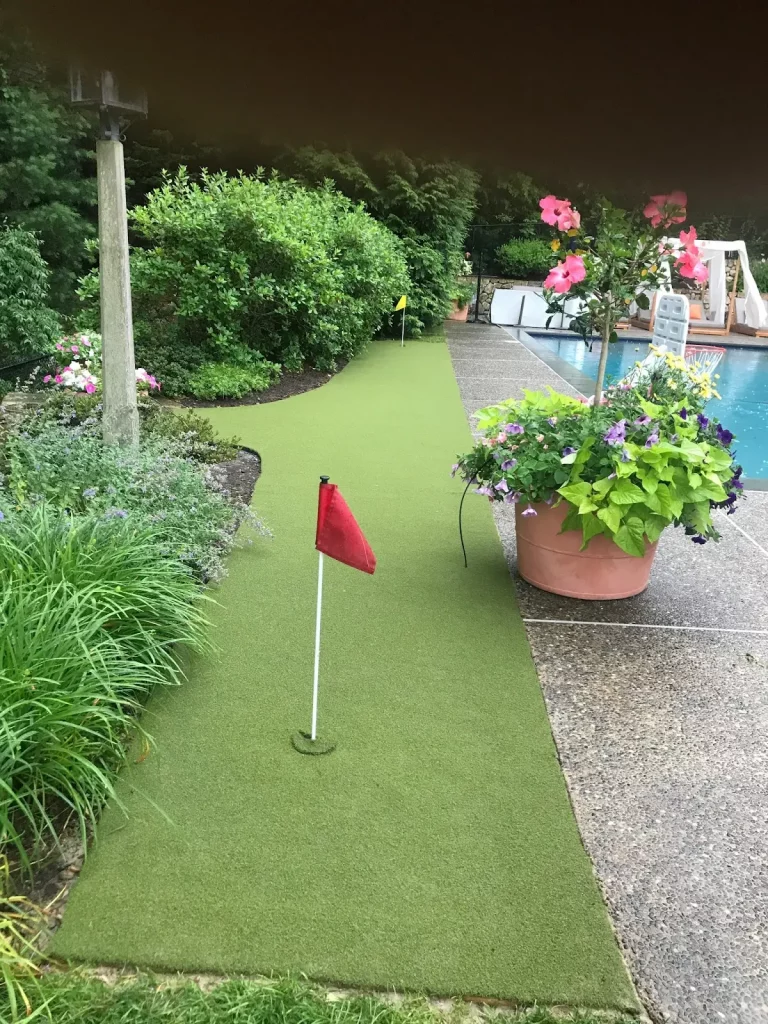 Uses of Artificial Turf
Artificial turf is no longer a commodity reserved for the realm of sports. Property owners are elevating their landscapes with artificial grass, which provides an easy-to-maintain solution to real grass – without compromising on appearance. The benefits go beyond simply ensuring that lawns look pristine; homeowners can enjoy reduced water bills and pest control services by introducing turf into gardens, walkways or pet areas in residential settings. Artificial Turf allows people to make use of versatile green spaces all year round – from lush backyard havens perfect for entertaining, to garden paths radiating natural beauty, and play zones safe enough even for furry friends!
Homeowners can achieve a luxurious outdoor look with low-maintenance artificial turf, featuring exquisite details and realistic looks. Enjoy the benefits of artificial grass by being outdoors with family and friends without worrying about spending hours maintaining the grass – meaning spending more time creating memories instead!
Athletic Use
Artificial turf is making its mark as an increasingly popular choice among commercial sports courts and indoor athletic fields. Enhanced durability, improved performance, minimal maintenance and long-term sustainability cost savings are among the benefits of this type of surface system. Additionally, artificial turfs can be tailored precisely to any size or shape parameters for internal sporting arenas, and includes adequate drainage.
Artificial turf is an increasingly popular option for commercial building operators looking to save on maintenance costs and provide guests with premier amenities. Maintaining artificial surfaces requires less time investment than traditional grass, creating a winning solution for property owners seeking maximum value from their investments.
Artificial Turf in Cambridge, MA
To begin your artificial turf installation project, contact our Canton office today. We will answer your questions regarding the ins and outs of your artificial grass project in Cambridge, MA. You may also schedule an in-office consultation.
During the consultation, we will offer viable options that can help you achieve the vision and goals for your synthetic artificial grass project. Our team will then create some sample designs and send them to you for approval. Once you've chosen your design, we will begin installation of synthetic turf at your property.You can begin your artificial grass proposal in Cambridge, MA, by calling New England Turf Store and setting up a consultation with our talented artificial grass team members. The number to reach us at is (781) 821-0112.