Artificial Turf – Franklin, MA
If you're in the Franklin, MA area and are looking for a solution to keep your lawn looking perfect, artificial turf is the answer! Our team takes artificial grass in Franklin, MA to a whole other level. With our New England Turf team on the job, you'll save time and money with turf, so call us today!  
As New Englanders, the weather and climate can make it near impossible to cultivate grass to grow in Massachusetts. Despite the blood, sweat, and tears we put into our property during the warmer months, snow will wipe away all the progress we've made. Lawn maintenance can be difficult to complete when Franklin, MA does not seem like the ideal grass-growing environment.
Luckily, the New England Turf Store offers a great alternative: artificial turf. When you work with our crew, you'll find that we use the most modern tools to install the best-quality product in all of Franklin. We work with clients to improve curb appeal and property value, regardless if the property is commercial or residential.
Learn more about what your Franklin neighbors think of our services via our online reviews!
How Artificial Turf Works
If you have a green thumb, or are simply tired of the monotonous routine that is lawncare, then artificial turf is the perfect solution! Regardless if you own a home or a business, artificial turf is a wonderful addition that will cut down on the water, electricity, gas, and energy used when caring for grass. Our professionals only use the best, which is why we utilize SYNLawn's recyclable plastic and processed soybean pods. With this product, your lawn will feel soft, look like natural grass, and require less of you; what more could you want!
The aforementioned product represents the pinnacle of synthetic turf, as it contains the following technology:
EnviroLoc Backing System: Locks turf fibers into place for increase durability and longevity
HeatBlock Technology: Using reflective traits, this tech will reflect sunlight for up to 20% less heat retention
Super Yarn Technology: Adds antimicrobial, IR reflective, and ant-static elements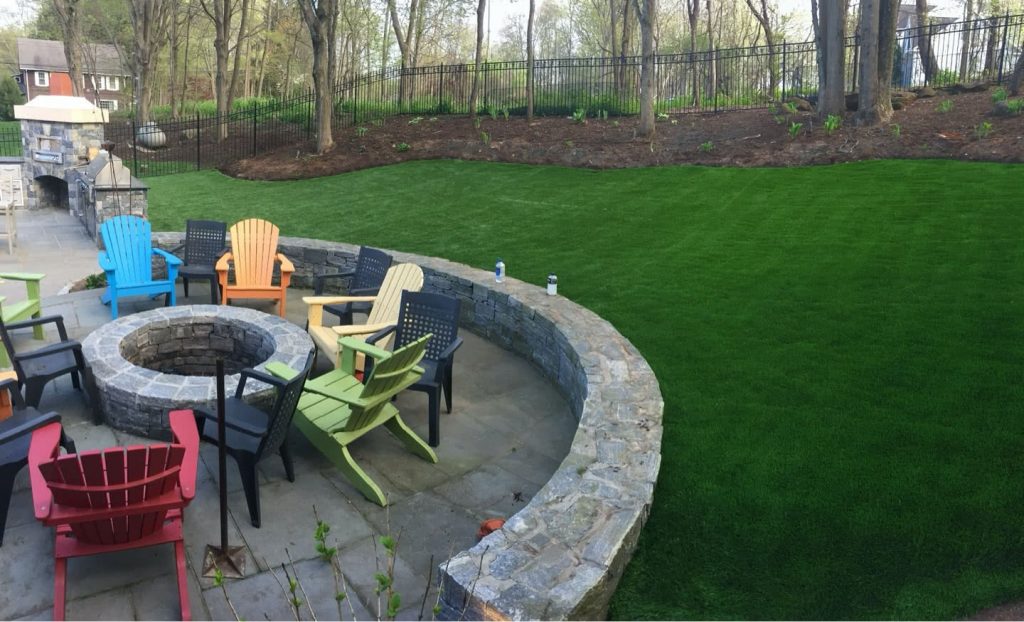 Artificial Turf Purposes
As we've mentioned, artificial turf's large list of benefits saves both home and business owners money on their bills, which is why it is quickly becoming the lawn of choice. At the New England Turf Store, we have installed artificial grass just about anywhere natural grass can grow, providing our clients with unparalleled expertise. Not to mention, our crew has installed countless synthetic grass products for homeowners here in Franklin, MA.
Some of the most common artificial grass installations we perform for homeowners includes:
Lawns and landscaping
Balcony pet areas
Playground surfaces
Putting greens
And so much more!
When it comes to our business-owner clients, we typically provide services like:
Athletic facilities
Race track interiors
Golf-training facilities
Rooftops
New construction
And even more!
What Are the Benefits of Artificial Turf?
Any sort of lawnscaping can feel near impossible to maintain, especially here in Franklin, MA. With the big changes in seasons and weather, natural grass will die year after year, requiring you to put in a lot of effort year round. 
Not to mention, growing and caring for natural grass can be very costly. With the rising prices of gasoline, it does not make sense to waste that gas money to run your mower. Water bills are already very expensive, so why would you run your sprinkler for an indeterminate amount of time? Save yourself time, money, and resources when you turn to artificial turf.
Beyond saving you money and energy, artificial grass benefits you because it is:
Safe: turf is hypoallergenic, antimicrobial, and non-toxic
Environmentally friendly: our turf uses recycled materials while decreasing petroleum consumption
Extremely durable: enjoy your beautiful, green yard for years to come
Are you interested in our New England Turf Store services? Learn more about our values, past projects, and craftsmanship before giving us a call.
Make an investment today that you'll be grateful for tomorrow by reaching out to our dedicated team. If you're in the Franklin area, call the New England Turf Store at (781) 821-0112 for the best synthetic turf!