New England Turf Store is helping Kingston area homeowners create a lasting outdoor oasis. Our quality artificial grass products, speedy installation, and best-in-class customer service make it easy to transform any sports field or green space into the perfect place for entertaining friends or for enjoying some fresh air! See our portfolio today to get inspired by recent projects that are pushing boundaries in design and sustainability.
Transform with Artificial Grass
Transform your outdoor area into an oasis of style and performance with artificial grass. With our selection, you can now have a safer playing surface that's tailored to fit any budget! Create the perfect haven in your outdoor space today.
Many Uses
Transform your property with artificial grass – a must-have landscape upgrade that adds value to any home. Get ready to experience the convenience of low maintenance and cost savings from reduced water bills or pest control services – all while enjoying lush green spaces year round! Perfect for backyards as havens for outdoor entertaining or for garden paths displaying natural beauty, you can now easily achieve an impressive aesthetic without worrying about upkeep efforts.
Create a backyard oasis without sacrificing your valuable time – artificial grass provides the perfect solution! Enjoy luxurious details and realistic appearances to transform any outdoor living space into an elegant getaway.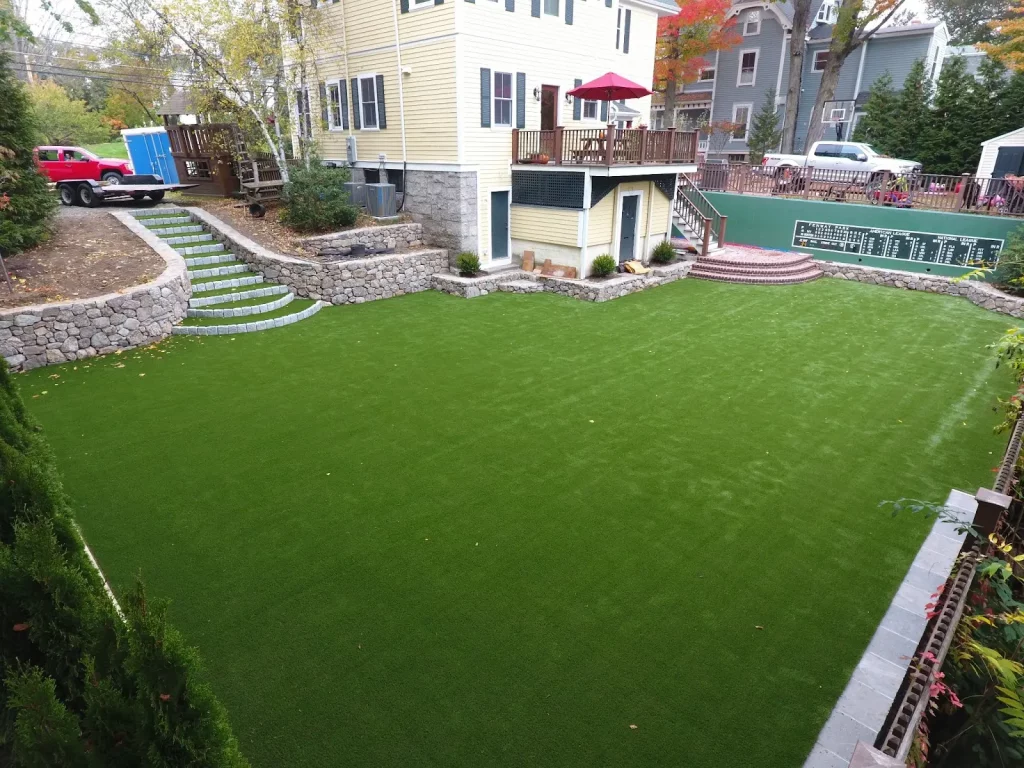 Athletics
Commercial sports courts and indoor athletic fields are making the switch to artificial turf – with good reason! From increased durability, optimized performance, and reduced maintenance requirements to long-term cost savings – it's a smart choice for groundskeepers in search of maximum value. Not only does modern synthetic grass allow for tailoring any size or shape but it's easy application is perfect for existing drainage systems. Investing in an artificial surface could be your winning combination!
Artificial Turf in Kingston, MA
To begin your artificial grass installation project, contact our Canton office today. We will answer your questions regarding the ins and outs of your artificial grass project in Kingston, MA. You may also schedule an in-office consultation.
Let us help you design and install a stunning green paradise in your outdoor space. Our knowledgeable team will provide several options to meet the goals of your project, leveraging our vast expertise every step of the way!
You can begin your artificial grass proposal in Kingston,MA, by calling New England Turf Store and setting up a consultation with our talented artificial grass team members. The number to reach us at is (781) 821-0112.