In Milton, MA and its neighboring towns, homeowners face the worry of maintaining natural grass in New England's unpredictable climate. The challenges are even greater for those with high school or college sports fields that need to sustain a safe playing surface during harsh winters and humid summers.
Artificial turf from the experts at New England Turf Store has become an increasingly popular solution by providing top-quality products alongside quick installation times backed up by world-class customer service – perfect for transforming any sports field or outdoor space into your dream project! Don't take our word for it, take a look through our gallery to see our recent projects.
Let us help you bring your vision to life with a fully customized synthetic turf project – we make it possible for you to design the ideal grassy oasis of your dreams!
What Are The Benefits of Artificial Turf?
Artificial grass is a revolutionary synthetic material that provides the look and texture of natural turf, while also improving safety. Originally implemented in professional sports leagues to reduce injury rates among competitors, fake grass has now been developed further with new sensors giving athletes valuable feedback on their speed and agility.
We offer an expansive range of products tailored to any budget size – all priced by square foot according to cost of materials selected – so you can get the most from your investment!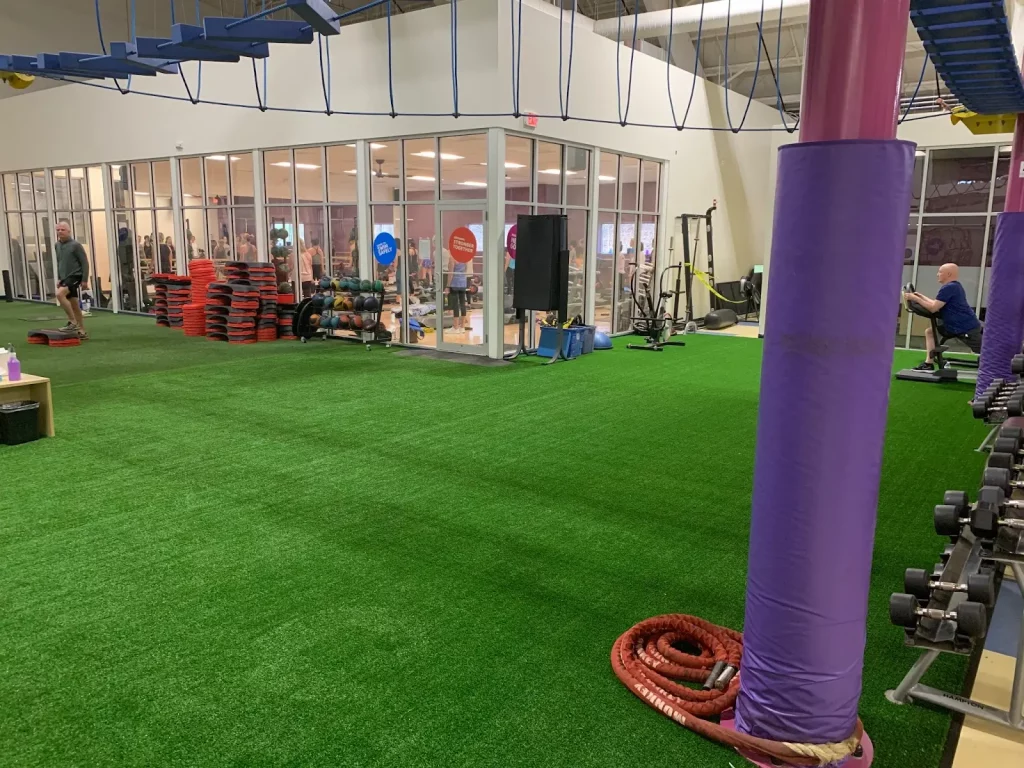 Uses of Artificial Turf
There are many different ways to use artificial turf. Most times it is used in athletic settings such as fields or in gyms to provide a great place to train. But often overlooked is in home uses and for public spaces.
Residential Use
Artificial turf is becoming a popular choice for homeowners in residential settings. Artificial turf provides a real grass look without the mess and hassle of maintenance, such as seeding and mowing. Turf can be used to create beautiful lawns, gardens, walkways, and even pet areas. Artificial turf can also help to reduce backyard pests, decrease water bills and add aesthetic beauty to the entire property.
Homeowners now have a low-maintenance option when choosing landscaping materials that have exquisite details with realistic looks. Artificial turf will revolutionize any home's outdoor space by allowing homeowner's to fully enjoy the outdoors with family and friends without needing to spend hours maintaining it.
Indoor Sport Courts
Artificial turf is providing an expanding range of options for commercial sports courts and indoor athletic fields. Artificial turf systems have become increasingly popular in the past decade, as they provide enhanced durability and improved performance with little to no maintenance.
Artificial turf systems can also be designed explicitly to cater to indoor sports fields' size, shape, and drainage requirements. With regards to cost, artificial turfs are more expensive than standard court floors, but they offer a minimal time investment and will last much longer before needing replacement or repair. Artificial turf's need for very few repairs makes it a popular choice among many commercial building operators who wish to keep their costs low while making sure their guests have access to premium facilities.
Artificial Turf in Milton, MA
To begin your artificial turf installation project, contact our Canton office today. We will discuss the ins and outs of your synthetic lawn request and schedule an in-office consultation.
During the consultation, we will discuss viable options that can help you achieve your goals for your synthetic artificial grass project. Our team will then draw up a few sample designs and send them to you for approval. Once we settle on a blueprint, we will begin to install synthetic turf at your property. You can install artificial grass in Milton, MA, by calling New England Turf Store and setting up a consultation with our talented artificial turf team. The number to reach us at is (781) 821-0112. Check out our reviews.