Homeowners in and around Canton, MA can now enjoy the convenience of a reliable outdoor space maintenance solution regardless of New England's ever-changing weather conditions. Sports field groundskeepers are getting enhanced surfaces with custom projects using synthetic turf from the New England Turf Store – which helps them reach performance goals without compromising on style!
Our team offers an easy and efficient way to bring your vision indoors. We stock only the highest quality products, which are quickly installed by our experienced professionals for a seamless transformation of any space – with complete customer service at every step! Browse through our gallery of recent projects today – discover how stress-free it can be to make reality out of dream spaces.
Benefits of Artificial Turf
Artificial turf is becoming an ever more popular solution for landscaping and recreational activities alike. Artificial turf offers a wide range of benefits that help to create a reliable and long-term investment with superior performance. Artificial turf has incredible durability, allowing it to survive in tough climates with minimal maintenance needs, while also being UV resistant which prevents fading over time.
Additionally, artificial turf is highly versatile and can be used in practically any application including residential lawns, sports fields, playgrounds, golf courses, pet areas, patios, decks and so much more. Artificial turf looks natural and offers a durable environment without the worry of mud or dead spots that come with a real grass lawn. Investing in artificial turf is a great way to get the most out of your outdoor spaces.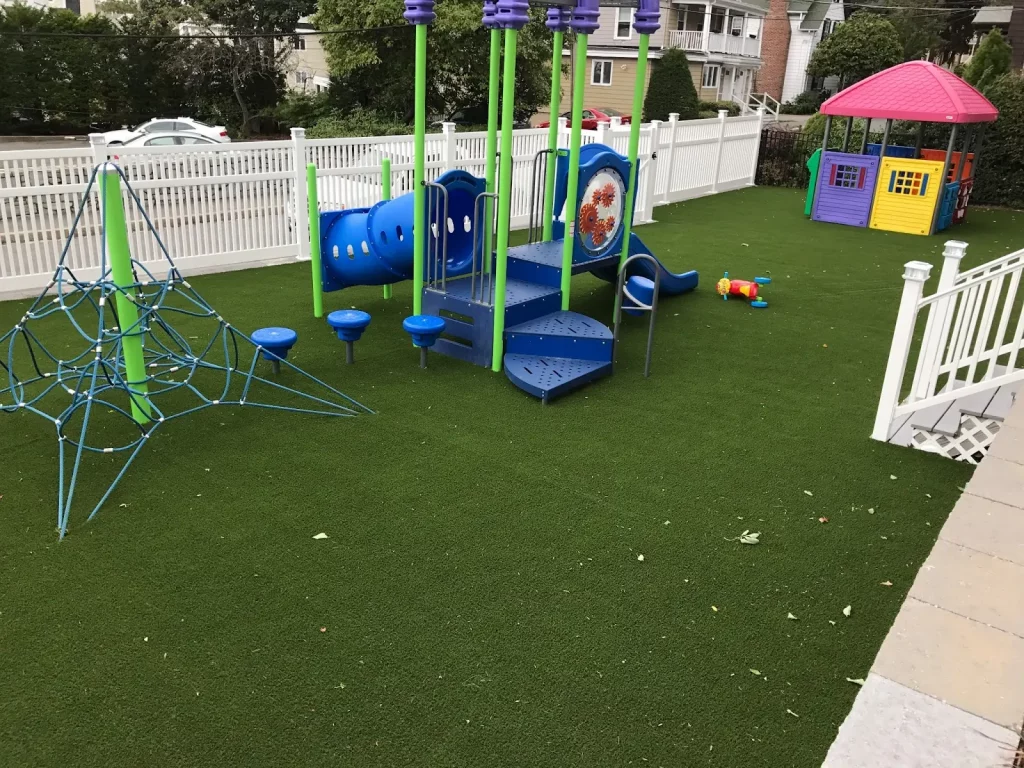 Where Can it Be Used
Artificial turf provides countless opportunities, revolutionizing both recreational and residential settings with its remarkable versatility. Whether you're looking to build a professional sports field or upgrade your backyard into an eye-catching outdoor space, this is the ideal choice for making the most of any area!
Uses For Home
Create a personal refuge from the hustle and bustle of daily life! With artificial turf, homeowners can now bring their dreams to fruition with chic yet easy-to-maintain landscaping that looks great year-round. Enjoy an outdoor environment free from seeding, mowing, and insects – all while helping reduce water consumption for your local community. Transform your backyard into an oasis without hassle or worry: true relaxation awaits you!
Take your sports and fitness experience to the next level with a world-class training facility right in your own home! Enjoy unparalleled convenience, no matter what mother nature throws at you. Artificial turf lets golfers, ballplayers, and weightlifters alike practice their sport even during inclement weather conditions – indoors or out. Transform any space into an elevated playing field for optimal performance results all year round!
Parks and Fields
Commercial building operators are turning to artificial turf systems in greater numbers due to their superior performance, high durability, and minimal maintenance requirements. Despite the initial cost of installation being higher than for other sports court floors, these turfs offer a long-term return on investment through significant savings from reduced upkeep costs. An ability to be customized based on size & shape demands and optimize drainage capabilities means that it is no surprise this system has become increasingly popular across multiple indoor/outdoor athletic fields around the world!
Artificial Turf in Canton, MA
Contact our Canton office today and we will discuss the ins and outs of your synthetic lawn request and schedule an in-office consultation.
During the consultation, we will discuss viable options that can help you achieve your goals for your synthetic artificial grass project. Our team will then draw up a few sample designs and send them to you for approval. Once we settle on a blueprint, we will begin to install synthetic turf at your property.You can install artificial grass in Canton, MA, by calling the New England Turf Store and setting up a consultation with our talented artificial turf team. The number to reach us at is (781) 821-0112. Check out our reviews.