Top-Rated Artificial Turf in Hanover, MA
As a Hanover home or business owner, you and your neighbors deserve a reliable solution to the everyday wear and tear on your outdoor living space. Us New Englanders know better than anyone how harsh the weather can be on our lawns, making it near impossible to have a consistently beautiful yard. With our modern artificial turf solution to this age-old problem, groundskeepers, schoolyard managers, and homeowners alike prefer the high-performance, custom, transformative turf over the dirt they were stuck with. At New England Turf Store, we offer a wide variety of alternative landscaping options, so you are sure to find something that you love!
Why settle for less when you could enjoy our top-rated New England Turf Store services? With our unparalleled expertise, your vision will be brought to life! Enjoy custom artificial turf professionally tailored to your needs and space. To give you an example of the transformative work we do, we have a gallery of recent projects for you to explore. Beyond what the gallery shows, our staff provides solution-seeking customer service and unbeatable craftsmanship.
Why is Artificial Turf Preferable?
With a natural look and feel, top-quality artificial turf easily replaces real grass and innovates lawn care. Give your sports facility a revolutionary playing material, improving your athletes' abilities. With New England Turf Store's premiere technology, we are able to sensor and measure improvements in speed, agility, and performance. Enjoy optimal safety standards and beautiful green landscaping without the work real grass requires.
Our crew is committed to our training, materials, processes, and customer care values. We bring a custom solution to any project, all while ensuring that your budget, schedule, and needs are taken into consideration.
Where Can Artificial Turf Be Used?
Surprising or not, synthetic landscaping products have a wide range of uses in both residential and commercial settings. Whether you're looking to improve your athletes' abilities or stop spending so much time mowing, artificial grass is the perfect solution! Backyards and fields alike can be transformed from spotty, wasteful natural grass into an eco-friendly, low-maintenance, beautiful artificial turf.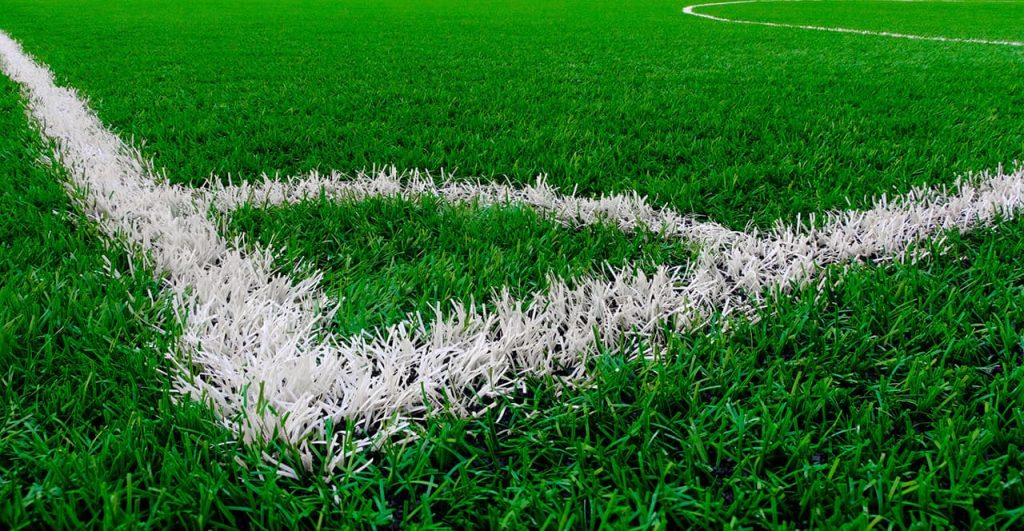 Residential
With it being an innovative and modern landscaping solution, artificial turf offers a plethora of unbeatable benefits for homeowners. Enjoy a versatile green oasis year-round for all your entertaining needs! Without the hassle of seeding, mowing, watering, and pesticides, you will feel as though you are living in the lap of luxury. With a welcoming aesthetic look, you are sure to be the go-to hangout for all your family and friends. Spend less money, time, and energy on maintaining your yard and more time making memories with loved ones.
Whether you want to work on your putt or pitch, artificial turf has been proven to improve athletic capabilities. Train year-round, regardless of weather, on custom-made turf. With a little bit of synthetic grass, you are sure to enjoy a personal training facility!
Public/ Commercial
Artificial turf, a revolutionary solution for commercial spaces, offers a multitude of compelling benefits that make it an ideal choice for businesses seeking to enhance their surroundings. As business owners, we know that we need durable, reliable products that will withstand the hustle and bustle of your customers, which is what artificial turf offers. When you pick turf, you will save company resources in the long-term, despite the cost now. Especially compared to its natural counterparts, synthetic landscaping is outfitted with efficient draining capabilities. This reduces potential damage and the associated costs. With all the benefits that synthetic turf has to offer, it is no wonder why commercial and public property owners alike are choosing this innovative product. 
Superior Artificial Turf in Hanover, MA
If you live in Hanover, MA and are looking for a reliable team to provide top-quality synthetic turf and customer service, then look no further! Our New England Turf Store is the ultimate mecca for all things artificial landscaping related and more.
Before we begin any project, we encourage you to schedule an in-office consultation. During this meeting, we will discuss your needs, problems, ideas, budget, property, and our solutions. After a thorough consultation, we will then draw up sample ideas and designs that are sent straight to you for approval. Once you give us the go-ahead, we will begin the installation for your transformative artificial grass with precise craftsmanship.
Give your Hanover property a beautiful upgrade by calling New England Turf Store! Once you've checked out our very satisfied reviews, give us a call at (781) 821-0112 to schedule a consultation.