New England Turf Store is transforming outdoor landscaping in Natick and beyond with their innovative synthetic turf products. Homeowners now have a reliable way to keep lush lawns all year, no matter the New England weather. Sports complexes are also benefiting from these resilient solutions that consistently meet performance standards head-on, even under Mother Nature's harshest conditions.
Discover the potential of your outdoor space with a stress-free installation from New England Turf Store – and experience our unparalleled customer service. Our commitment to excellence is backed by an amazing gallery of ideas for you to explore, helping ignite those creative visions in your head! Bring life back into your dream space today.
Why Choose Artificial Turf
Artificial turf is quickly becoming the go-to choice for sports facilities and recreational areas. Its superior durability means that athletes can enjoy a soft, cushioned surface with consistent play conditions all year round – no matter what Mother Nature has in store! With its indoor/outdoor versatility, artificial turf offers reliable solutions to those who are looking for dependable performance regardless of weather conditions.
Artificial turf is an ideal solution for eco-conscious homeowners looking to reduce their environmental footprint. Maintenance does not require the use of expensive fertilizers, pesticides, or herbicides; instead only periodic raking and brushing is required to keep it in top condition – significantly reducing time, money, and labor – compared to natural grass upkeep!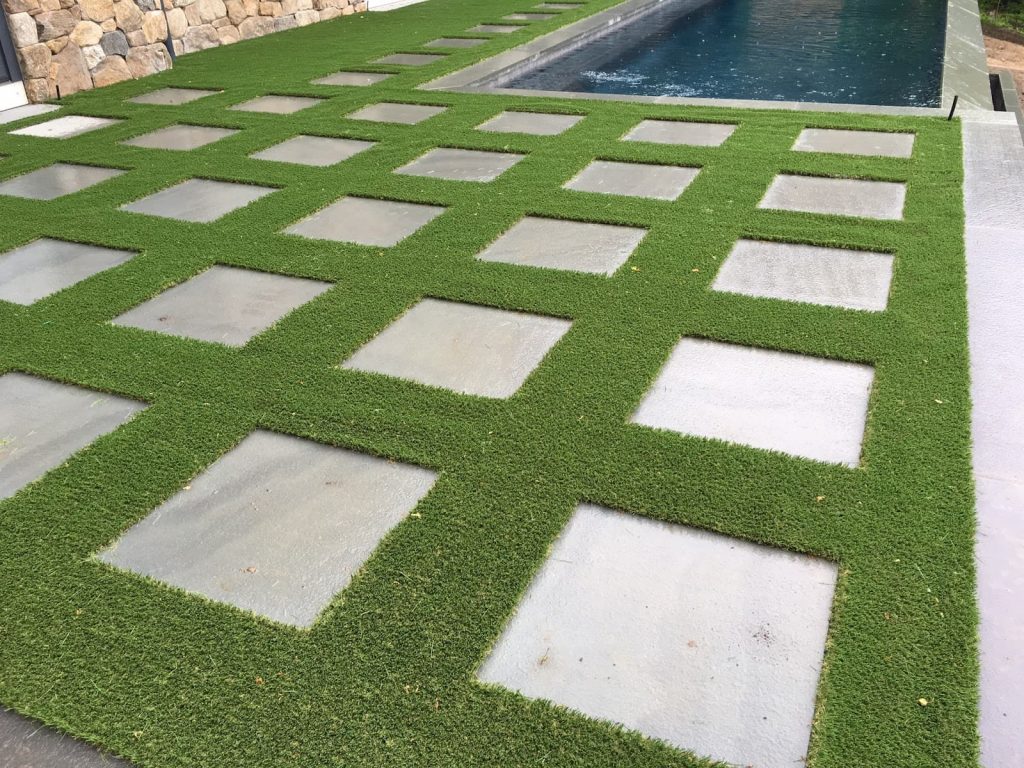 Different Places For Artificial Turf
Transform your outdoor space into a functional oasis with the power of artificial turf. From backyard spaces to professional athletics surfaces, this revolutionary material is capable of exceeding all expectations!
For Home Use
Transform your outdoor living space into a paradise with the help of artificial turf! Enjoy the classic green-grass look without any traditional landscaping hassles, and bask in carefree relaxation, knowing you're saving water, avoiding allergy triggers, and contributing to helping our environment. Artificial turf is not only aesthetically pleasing but also offers maximum comfort, often exceeding what natural grass can provide – creating an atmosphere tailored for beauty as well as sustainability!
Take your physical prowess to the next level and upgrade your home's outdoor space into a luxury sports facility! With artificial turf, you can practice golf or baseball, or lift weights – all mess-free. Keep yourself in top form no matter what Mother Nature throws at you, with year-round indoor training sessions full of comfort and maximum performance potential. Create an athletic oasis today that could even make professional athletes envious.
Commercial Spaces
Artificial turfs continue to surge in popularity as the go-to flooring for commercial buildings, bringing with it unbeatable performance and durability along with low maintenance requirements. An investment that pays off – these turf systems are costlier up front while generating long-term savings, plus they can be tailored around size & shape demands all whilst delivering superior drainage functions! Perfectly designed for any indoor/outdoor sports court setups; this is definitely a trend worth catching on to.
Artificial Turf in Natick, MA
Contact our Canton office today and we will discuss the ins and outs of your synthetic lawn request and schedule an in-office consultation.
During the consultation, we will discuss viable options that can help you achieve your goals for your synthetic artificial turf project. Our team will then draw up a few sample designs and send them to you for approval. Once we settle on a blueprint and budget, we will begin to install synthetic turf at your property.
You can install artificial turf in Natick, MA, by calling New England Turf Store and setting up a consultation with our talented artificial turf team. The number to reach us at is (781) 821-0112. Check out our reviews.