Residents of Sharon, MA and beyond can now depend on New England Turf Store for their outdoor area needs. No longer does the unpredictable climate in New England have to deter stylish design – with custom projects using synthetic turf! Our expert installers will help you maintain beautiful landscaping year-round! Even sports fields' groundskeepers are finding an ideal option that meets performance standards without fail – regardless of season or weather conditions.
Transform your outdoor space with ease! At New England Turf Store, professional installation and superior products create a stress-free solution to bring indoor visions to life. Our commitment goes beyond just excellence – you'll be supported every step along the way by our unparalleled customer service! Get inspired – browse through recent projects in our gallery.
Why Choose Artificial Turf
Artificial turf has numerous benefits for facilities when it comes to installation and usage, and is gaining in popularity due to its durability and low maintenance, compared to natural grass. It can be used indoors or outdoors and is suitable for sports fields, playgrounds and other recreational areas. Artificial turf provides a soft cushioning that reduces the chance of injuries while enabling athletes to perform at their peak all year round. 
Artificial turf also requires little water and no fertilizers, pesticides or herbicides are needed, reducing its impact on the environment. It also requires only periodic raking and brushing for upkeep, saving time, money, resources and manpower, unlike natural grass maintenance requirements.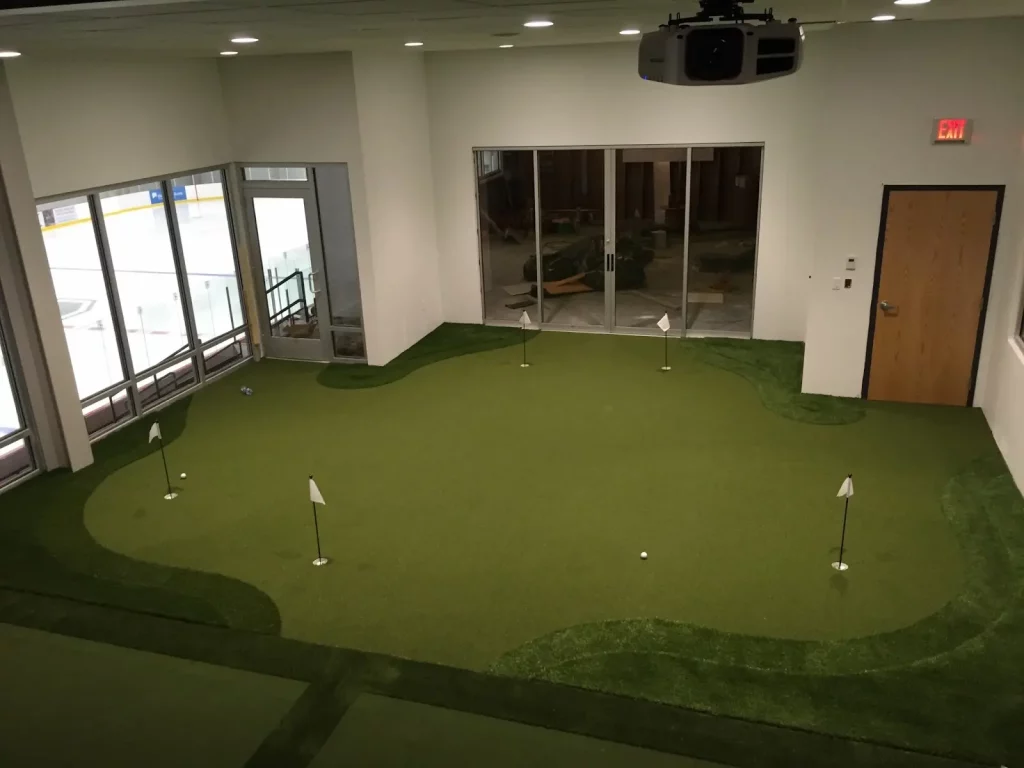 The Different Uses For Artificial Turf
Artificial turf is the prime choice for those seeking a versatile, multi-functional option. With its capacity to revolutionize both athletics and residential areas alike, this one-of-a-kind material is perfect for premier sports surfaces or for turning any backyard into an awe-inspiring outdoor sanctuary – truly making it possible to maximize your space!
Home Use
Homeowners can now create a personal oasis without the stress of traditional landscaping! With artificial turf, you'll get that classic green-grass look with none of the hassles. Enjoy lush outdoor living and peace of mind knowing that water conservation is also part of your contribution to our planet's future. Additionally, say goodbye to pollen allergies or pests ruining your relaxation time. Artificial turf offers all of these advantages – beyond what natural grass provides.
Upgrade your outdoor living space to become an athletic oasis! Artificial turf eliminates the mess and hassle of practicing golf, baseball, or lifting weights year-round. Don't worry about poor weather keeping you from enjoying outdoor activities indoors— artificial turf ensures top performance no matter what nature throws at you. Transform your abode into a luxurious training facility today with synthetic grass – ideal for so many athletic ventures.!
Athletic And Commercial Use
Artificial turf systems are emerging as the leading surface covering choice for commercial building operators everywhere, thanks to their unparalleled durability, performance, and minimal maintenance needs. Even though initial costs may be higher than other surfaces, these turf systems come with long-term savings benefits. They also provide continuous accessibility – making it a smart investment over time. And they are easily adaptable according to size and shape requirements, while optimizing drainage capabilities. It's no surprise this surface covering is increasingly installed on indoor/outdoor sports courts across the globe!
Artificial Turf in Sharon, MA
Contact our Canton office today and we will discuss the ins and outs of your synthetic lawn request and schedule an in-office consultation.
During the consultation, we will discuss viable options that can help you achieve your goals for your synthetic artificial grass project. Our team will then draw up a few sample designs and send them to you for approval. Once we settle on a blueprint and budget, we will begin to install synthetic turf at your property.
You can install artificial grass in Sharon, MA, by calling New England Turf Store and setting up a consultation with our talented artificial turf team. The number to reach us at is (781) 821-0112. Check out our reviews.