New England Turf Store is revolutionizing outdoor design in Walpole and beyond with their synthetic turf products. Homeowners now have a dependable way to keep lush landscaping year-round, despite the erratic New England weather! The stunning scenery isn't just for show either – even sports fields' groundskeepers are finding it meets performance standards reliably, no matter when or how much Mother Nature throws at them.
Make your dream space a reality – stress-free! At New England Turf Store, let us help you bring your outdoor living vision to life, with our professional installation and superior products. Our commitment extends far beyond just excellence: we provide unparalleled customer service, making each step of this journey straightforward and easy for all involved. Get inspired today by taking a look at what others have done in our gallery!
The Right Choice is Artificial Turf
Artificial turf has quickly become one of the top options for sporting facilities and recreational areas, thanks to its superior durability and low maintenance needs. It provides a soft cushioning surface that limits injuries while enabling athletes to stay competitive year-round with consistent play conditions. Ideal for both indoor or outdoor use, artificial turf is an increasingly popular choice among facility administrators who are looking for reliable solutions in all weather scenarios.
Artificial turf is also a great choice for individuals looking to reduce their environmental impact. Going beyond conserving water, there's no need for fertilizers, pesticides or herbicides – meaning upkeep requires only periodic raking and brushing. This offers significant savings in time, money and manpower compared to traditional natural grass maintenance requirements!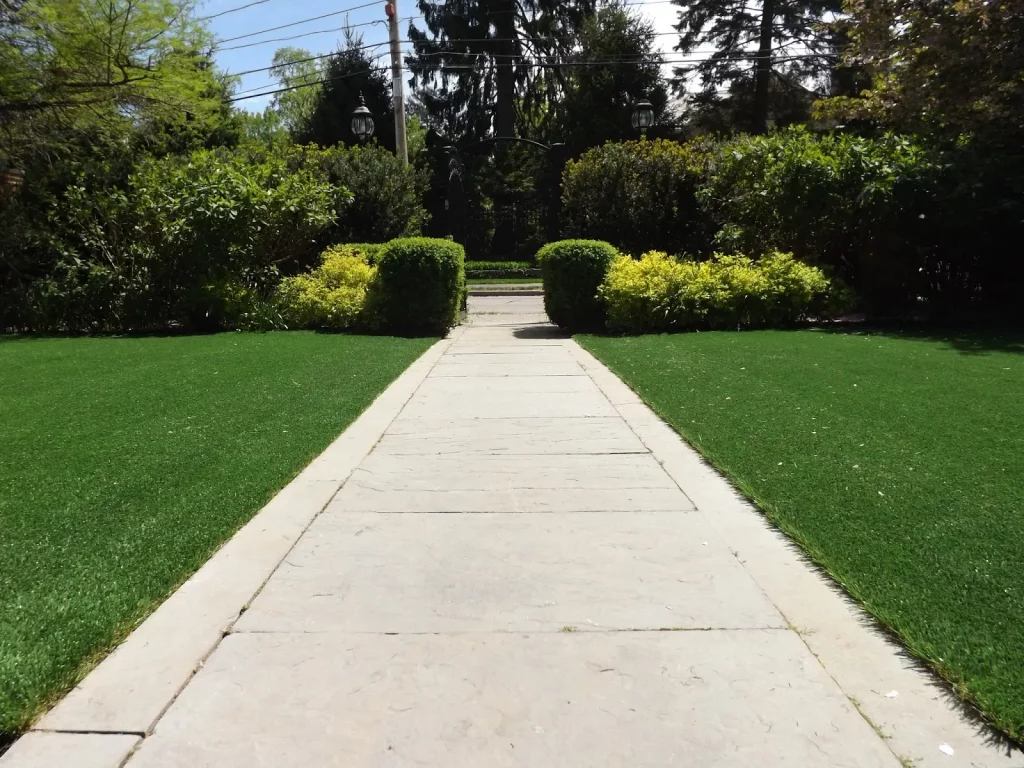 The Uses
Artificial turf is a truly transformative option for those ready to revolutionize their space. Perfectly suitable for the highest level athletics or any backyard, this multi-functional material provides unlimited potential – making it possible to turn your desires into reality!
Residential Spaces
Find your own little corner of paradise with the help of artificial turf! With its classic green-grass look, lush outdoor living space is just a few steps away. Enjoy carefree relaxation knowing you're saving water and avoiding allergy triggers – all while contributing to a healthier planet for generations to come. Create an oasis that's both beautiful and sustainable without any traditional landscaping hassles: Artificial turf offers maximum comfort beyond what natural grass can provide.
Take your fitness game to the next level with an upgrade for your home. Transform it into a luxurious training facility that can handle any kind of athlete – and Mother Nature as well! With artificial turf installed, enjoy practicing golf or baseball and lifting weights year-round – mess free – in maximum comfort regardless of bad weather conditions. Create an athletic oasis today and reach peak performance indoors!
Commercial Spaces
Artificial turf systems are rapidly becoming the flooring of choice for commercial building operators, offering unbeatable durability and performance with minimal maintenance needs. Boasting long-term savings benefits as well as continuous accessibility, these turfs present a smart investment option despite initial costs being comparatively higher than other surfaces. Their ability to adapt flexibly in terms of size and shape requirements whilst optimizing drainage capabilities further cements their popularity; no wonder they're popping up on indoor/outdoor sports courts all over!
Artificial Turf in Walpole, MA
Contact our Canton office today and we will discuss the ins and outs of installing artificial turf and schedule an in-office consultation.
During the consultation, we will discuss viable options that can help you achieve your goals for your synthetic artificial grass project. Our team will then draw up a few sample designs and send them to you for approval. Once we settle on a blueprint and budget, we will begin to install synthetic turf at your property.
You can install artificial grass in Walpole, MA, by calling New England Turf Store and setting up a consultation with our talented artificial turf team. The number to reach us at is (781) 821-0112. Check out our reviews.