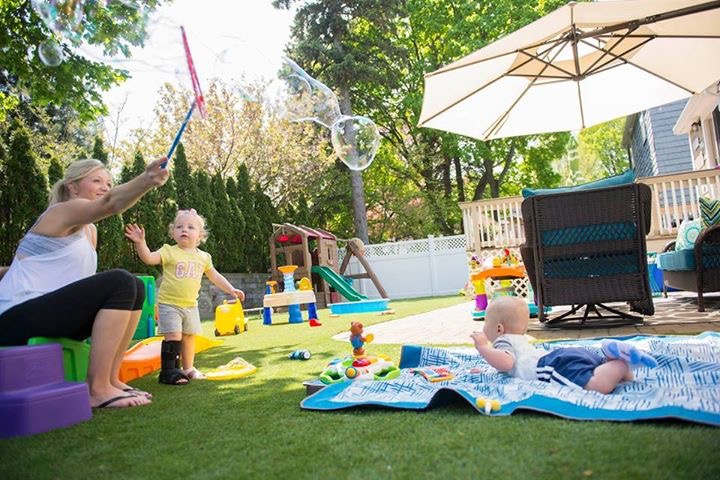 Backyard Artificial Grass: 4 Reasons to Embrace It
The artificial grass industry is exploding!  Some of this growth can be attributed to high school and university athletic facilities, which have been reaping the benefits of switching to synthetic turf. The commercial and public sectors have also been adopting artificial grass more frequently, driving even more growth in the industry. When most of us think of a picture-perfect lawn, thoughts of lush green grass and vibrant flowers come to mind. Unfortunately, real grass requires a lot of work to maintain, and it's not always practical for busy homeowners. That's why many of us are turning to artificial grass for our backyards. Not only does it look beautiful all year long, but it's low-maintenance, saves water, and provides excellent value for your money. In this blog post, we'll be discussing the top four reasons why you should embrace backyard artificial grass.
Artificial Grass is Low Maintenance
One of the biggest advantages of having artificial grass in your backyard is that it requires little effort to maintain. Unlike real grass, you don't need to mow or water it regularly. Artificial grass can save you a lot of time, and the money that you would have spent on upkeep and maintenance. This is a significant benefit for those with busy lives or who are unable to do physical labor.
It Saves Water
In many parts of the world, water shortage is a big problem, especially during the summer. Natural grass requires a lot of water to keep it green and healthy. This is where artificial turf comes in handy. Having an artificial lawn means you don't have to use any water to keep it fresh and green. This saves you money on expensive water bills, and you conserve a valuable resource at the same time.
Backyard Artificial Grass is a Wise Investment
You may be surprised to learn that backyard artificial grass is an affordable solution to traditional grass lawns. While the initial cost may be higher, the low maintenance expenses and the long-term savings on water bills make it a wise investment. Additionally, the lifespan of artificial grass is much longer than natural grass making it a better investment in the long run.
It is Pet Friendly
Finally, backyard artificial grass is an excellent choice if you have pets. Dogs and cats love to play outside, and natural grass can become a breeding ground for insects and fleas. Artificial grass is treated to prevent these issues and is built with drainage holes that make clean-up a breeze. This means you can spend more time playing with your furry friends and less time cleaning up after them.
Choose New England Turf Store
Backyard artificial grass is a fantastic option for busy homeowners looking to save time, water, and money. From low maintenance to excellent value for money, this low-maintenance solution can provide the perfect backdrop for family barbecues, kids' parties, and relaxation time. Whether you're looking for a pet-friendly, long-term investment or just a beautiful green lawn, artificial turf can meet your needs and exceed your expectations. Take the first step today and schedule an installation consultation. Trust us, once you experience the benefits of backyard artificial grass, you won't regret it!
At New England Turf Store, we love helping our clients create landscapes using backyard artificial grass! Our experienced team is knowledgeable and skilled in the best methods needed to design and install beautiful, cost-effective surfaces that will bring decades of joy to you and your family. Based in Canton, Massachusetts, we look forward to hearing about your plans. Contact us for a free consultation!